All club expenses, including Club Dues and Team Fees, are combined into a single "Club Program Dues" that will be paid directly to the club over a 9-month payment plan for all players except for High School girls teams (U15+) that play only in the fall season.
Uniforms are purchased separately from soccer.com. You will receive a link to purchase your uniform.
BSC dues include coaching salary and travel expenses, field usage fees, referee fees, NYCSA registration and player carding, tournament registration for 9U+, training equipment and administration.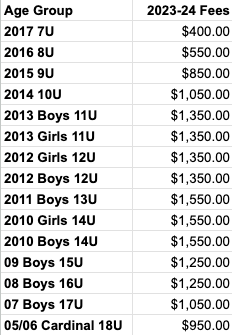 REFUND POLICY:
Any player who accepts his/her position is responsible for all fees, including the tryout fee, acceptance fee and club dues, for the entire year.

If any one fee is not paid BSC can refuse your spot on a roster, suspend your player card or remove you from the team/club.

No refunds will be given at any time, unless the player suffers a season ending injury or if the family relocates to a geographic location making it impossible for the player to continue playing for BSC.

Family of player must fill out the Refund Request form and clearly provide details about their season ending injury or relocation.

Family of player will need to provide documentation supporting such details.

Any reduction or change in club fees amount will be determined on a case by case basis and will be reviewed by the BSC Board.

In some circumstances an administrative fee may apply. Please allow 7-10 days for BSC's Board to review your situation.